Mountain Mao Feng Green is a fine organic green tea from China with a wonderful taste and clean refreshing fragrance. Mountain Mao Feng Green is a good tea by itself or with a hint of honey.
Health Benefit: Green tea is packed with antioxidants. Studies show 4-10 cups of green tea per day provides the dosage of antioxidants to produce effective health benefits.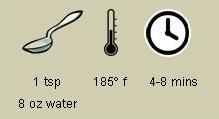 Depending upon tea leaf size, 1 oz of tea brews about 8-10 cups of tea.