Pomegranate White is an organic white tea with health promoting attributes from both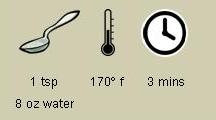 pomegranates & white tea. Blending the delicate, nectar-like flavor of white tea with the zippy punch of California pomegranates. Rich in anti-oxidants.
Depending upon tea leaf size, 1 oz of tea brews about 8-10 cups of tea.